Enlightenment and Nation-Defence Profile of Ján Čaplovič
Marcela Gbúrová

Faculty of Arts, Pavol Jozef Šafárik University in Košice (Slovakia)
Keywords:
Ján Čaplovič, Enlightenment, Austrian Empire, Historic Hungary, National defence, Magyarism, Renegades
Abstract
Ján Čaplovič (1780 - 1847) was one of the major figures of the Slovak national-revivalist generation, in large part due to the role he played in bridging the professional and language gaps during the reform course of the rulers of the Austrian monarchy, and the struggle of the Hungarian nobility for Hungarian independence in the late 18th and early 19th centuries due to the search for soft but effective forms of nation-defence activities. This study presents the enlightenment and nation-defence profile of the Slovak patriot Ján Čaplovič who has received minimal attention from the Slovak academic community after 1990s. Although he is not considered a prominent national revivalist, his publishing devoted to ethnographic and national defence issues significantly contributed to Slovaks taking their stance in the multinational Austrian monarchy, in strengthening their ethnic identity, and in fostering the process of codification of their literary language as the most important national identification sign in 1843. The study is divided into three relatively separate but interrelated sections. The first part outlines his enlightenment profile, with special attention paid to its most important component, which was used in his ethnographic and patriotic works. The second part profiles the Slovak national defences of the first four decades of the 19th century of authors such as Pavol Senický, Juraj Rohonyi, Samuel Hoič, Matej Šuhajda, Ján Chalupka, Jozef Meltzer, Ondrej Soltys, Ľudovít Štúr, Ján Francisci, and Michal Miloslav Hodža. Their defences played an important role in supporting active political forms of enforcing the ethnic-emancipatory demands of the representatives of the Slovak nation-forming elite for a more democratic settlement of the contemporaneous conditions in the monarchy, especially in historic Hungary. The last part analyses in detail the national defences of Ján Čaplovič and evaluates their expressive value.
References
AMBRUŠ, J. (1954). Listy Ľudovíta Štúra I. Bratislava, 1954.
Apologetika. (2021). Available at: https://sk.wikipedia.org/wiki/Apologetika. [Accessed 4. September 2021].
ČAPLOVIČ, J. (1811). Nucleus Plani tabularis sive synopticus decisionum curialium extractus. Bratislava: Weber 1811.
ČAPLOVIČ, J. (1814a). Novum facilem et utilem apes in duplicatis alvearibus colendi rationem omnibus apicolis commendat. Wien 1814.
ČAPLOVIČ, J. (1814b). Die Bienezucht in Doppelstöcken... I. Wien,1814.
ČAPLOVIČ, J. (1814c). Die Bienezucht in Doppelstöcken... II. Wien, 1814.
ČAPLOVIČ, J. (1817). Zpráva včelárska o opatrovaní včél v dvojitých ulech s zvláštnym ohledem na magazýní, kláty a koše. Vienna: Anton Dolla, 1817.
ČAPLOVIČ, J. (1818). Slowaken in Ungarn (podtitul Beweis dass die Slowaken in Ungarn Engländer sind. Halb, Ernst, halb Scherz.). In: Hespereus. No. 49, 55, 57, 59.
ČAPLOVIČ, J. (1819). Slawonienund zum Theil Croatien. Ein Beytreg zur Völker und Länderkunde. Theils aus eigener Ansicht und Erfahrung (1809 – 1812), theils auch aus späteren zuverlässigen Mittheilungen der Insassen. Vol. 2. Pešť: Hartleben, 1819.
ČAPLOVIČ, J. (1820). Slowaken in Ungarn (podtitul Beweis dass die Slowaken in Ungarn Engländer sind. Halb, Ernst, halb Scherz.). In: Hespereus. No. 19, 21, 22, 23.
ČAPLOVIČ, J. (1837). Manuale legum urbarialium anni, 1836. Viedeň: Mösle-Braumüller, 1837.
ČAPLOVIČ, J. (1838). O prirodzenom práve. In: Századunk I. No. 8, 17, 18.
ČAPLOVIČ, J. (1841a). Synopsis legum de annis 1836 et 1840. 14. Viedeň: Braumüller-Seidel, 1841.
ČAPLOVIČ, J. (1841b). Hlas zo Slovenska. In: Květy. No. 7-8.
ČAPLOVIČ, J. (1842a). Slawismus und preudomagyarismus. Vom aller Menschen Freunde, nur der Pseudomagyarismus Feinde. Lipsko: Wigand, 1842.
ČAPLOVIČ, J. (1842b). Rozjímaní o zmaďařovaní země Uherské. Praha: Pospíšil, 1842.
ČAPLOVIČ, J. (1975). O Slovensku a Slovákoch. (Preložila, doslov a poznámky napísala Viera Urbancová). Bratislava: Tatran, 1975.
ČAPLOVIČ, J. (1997). Etnografia Slovákov v Uhorsku. (Z rukopisu preložil, poznámky a doslov napísal Rudo Brtáň). Bratislava: Slovenské pedagogické nakladateľstvo, 1997.
ČAPLOVIČ, V. (2012). O djelu Jána Čaploviča. In: Scrinia slavonica. No. 12, pp. 497-519. Available at: https://core.ac.uk/download/pdf/19759516.pdf [Accessed 2. September 2021].
GAŠPERÍK, J. (1927). Pamätnosti včelárstva Slovenského, Memorabilia apiaria slovenica I. (Literatúra z doby národného prebudenia Slovákov. Sosbieral Dr. Ján Gašperík). Bratislava: Zemské ústredie spolkov včelárskych pre Slovensko 1927.
GBÚROVÁ, M. (2019). Štefan Launer (1821-1851). Bratislava: Veda, 2019.
HODŽA , M. (1920). Československý rozkol. Turčiansky sv. Martin, 1920.
HRNKO, A. (2021). Spolužitie Slovákov s Maďarmi v Uhorsku a maďarizácia. In: Blog Antona Hrnka. Available at: https://www.hrnko.sk/2010/04/18/spoluzitie-slovakov-s-madarmi-v-uhorsku-a-madarizacia/ [Accessed 20. October 2021].
JANKOVIČ, V. (1945). Ján Čaplovič – život, osobnosť, dielo. (Edícia Spisy historického odboru Matice slovenskej v Turčianskom Sv. Martine). Vol. 8. Martin: Matica slovenská, 1945.
KABELÍK, J. (1926). Juraj Rohonyi a jeho obrany Slovanů, zvláště Slováků. In: Sborník filosofický. Vol. VIII, pp. 104-138.
KAČALA, J. (1994). Slovenčina – vec politická. Martin: Matica slovenská, 1994.
KAČALA, J. (2002). Slovenčina pri míľnikoch slovenských dejín. Trnava: Univerzita sv. Cyrila a Metoda 2002.
KAČÍREK, Ľ. (2011). Modernizácia Uhorska v 19. storočí a slovenské národné hnutie. In: Martinkovič, M. ed. Idey a vývoj Slovenského národotvorného myslenia. Trnava-Krakov: Filozofická fakulta Trnavskej univerzity v Trnave, Spolok Slovákov v Poľsku, 2011.
LAUNER, Š. (1847). Povaha Slovanstva. Lipsko. 1847.
MESZÁROS, O. (2006). Paradoxy Jána Čaploviča alebo o jednom spôsobe marginalizácie. In: Filozofia.  Vol. 61, No. 10. pp. 827-837.
ORMIS, J. V. (1943). Dve vydania Šuhajdovej brošúry Der Magyairsmus in Ungaren. In: Literárnohistorický sborník I. pp. 36-37.
ORMIS, J. V. (1967). Neznáma brožúra Pavla Senického. In: Historický časopis. Vol. XV, No. 1, pp. 46-62.
ORMIS, J. V. (1973). O reč a národ (Slovenské národné obrany z rokov 1832-1848). Bratislava: VEDA, 1973.
PRAŽÁK, A. (1926). Slovenské studie. Samuel Hojč. Bratislava: Univerzita Komenského, 1926.
RAPANT, D. (1927). K počiatkom maďarizácie I. Bratislava, 1927.
RAPANT, D. (1937). Slovenské povstanie 1848-49. I. Martin: Matica slovenská, 1937.
RAPANT, D. (1943). Slovenský prestolný prosbopis z roku 1842. Vol. 2. Liptovský sv. Mikuláš: Tranoscius, pp. 49-55.
RAPANT, D. (1947). Ideálna maďarizácia 1790-1840. Martin: Matica slovenská, 1947.
REICHEL, D. (2009). Kapitoly metodologie sociálních výzkumů. Praha: Grand Publishing, 2009.
SCRUTON, R (1991). Krátke dejiny novovekej filozofie. Bratislava: Archa, 1991.
SCHULZE, H. (2003). Stát a národ v evropských dějinách. Praha: Nakladatelství Lirové noviny, 2003, pp. 136-159.
STANISLAV, J. (1999). Slovenský juh v stredoveku. Vol. 1. 2nd edition. Bratislava: Národné literárne centrum – Dom slovenskej literatúry, 1999.
STANISLAV, J. (2004). Slovenský juh v stredoveku. Slovník mien s mapovými prílohami. Vol. 2. 2nd edition. Bratislava: Literárne informačné centrum, 2004.
ŠTÚR, Ľ. (1986). Dielo I. Bratislava: Tatran, 1986.
TIBENSKÝ, J. (1964). Historická podmienenosť a spoločenská báza vzniku bernolákovského hnutia. In: Tibenský, J. ed. K počiatkom slovenského národného obrodenia. Zborník štúdií Historického ústavu SAV pri príležitosti 200. výročia jubilea narodenia Antona Bernoláka. Bratislava: Veda, pp. 55-96.
URBANCOVÁ, V. (1970). Počiatky slovenskej etnografie. Bratislava: Veda,1970.
ZURIAŇOVÁ, Ž. (1930). O brožúre Michala Miloslava Hodžu" Der Slowak!. In: Prúdy. Vol. 1, No. 4, pp. 246-253.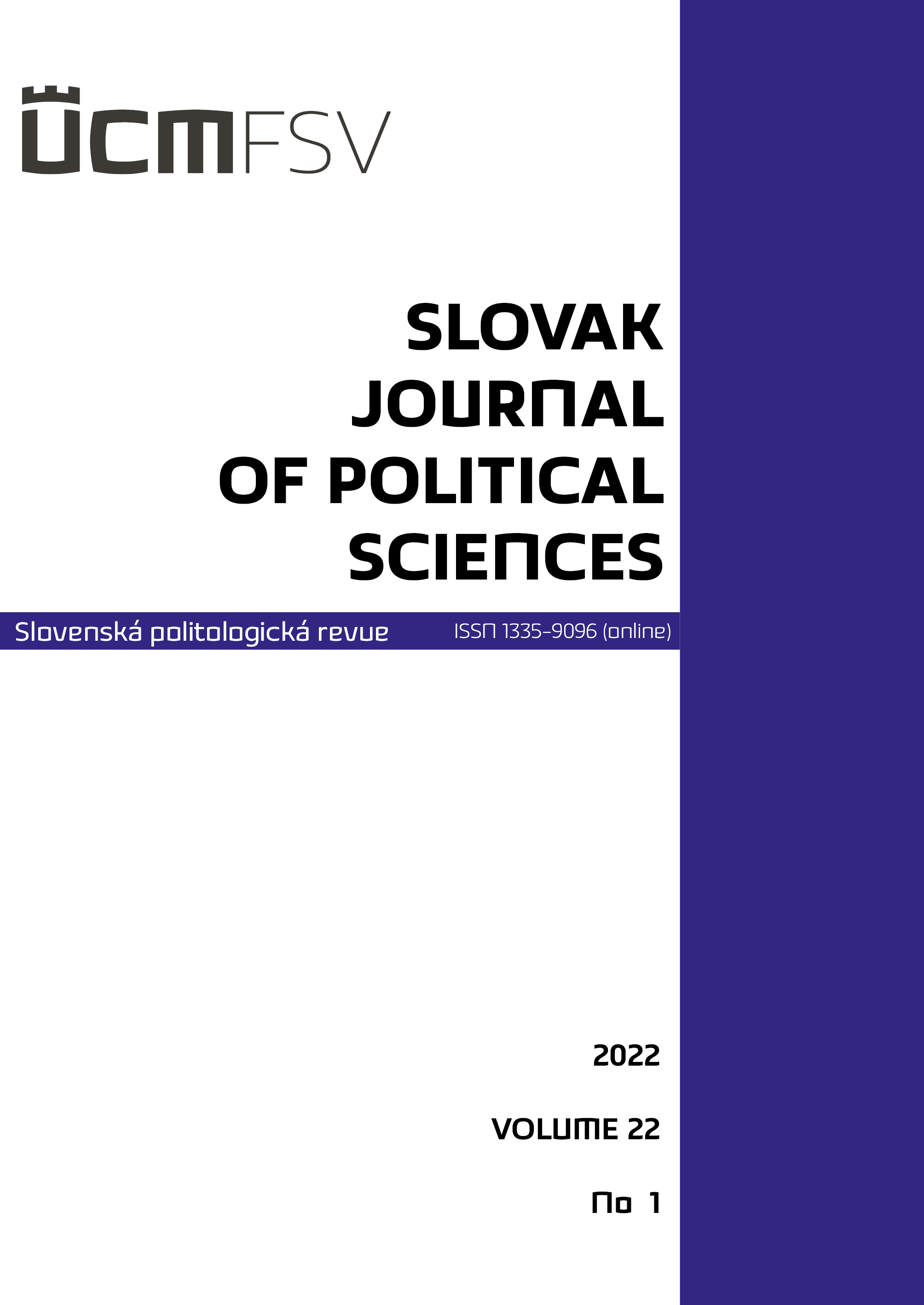 How to Cite
Gbúrová, M. (2022) "Enlightenment and Nation-Defence Profile of Ján Čaplovič", Slovak Journal of Political Sciences, 22(1), pp. 108-134. Available at: http://sjps.fsvucm.sk/index.php/sjps/article/view/330 (Accessed: 12August2022).
Please, read licence agreement.
Publication Charge
There is no publication fee or charge for any submitted or accepted articles. There is no article processing charges (APCs) would be billed to authors.