"We Have Decided to Guarantee the Continuity of the Universities Long-Time Funding": The Political Rhetoric of the Ministers of Education and the Reform of University Funding During 2005—2015 In Finland
Ismo Björn

University of Eastern Finland, Joensuu, Finland

Pirjo Pöllänen

University of Eastern Finland, Joensuu, Finland

Jarmo Saarti

University of Eastern Finland Library, Kuopio, Finland
Keywords:
higher education policy, rhetoric, new public management, neo-liberalism, Finland, 2005 – 2015
Abstract
At the beginning of the year 2010, new higher education legislation was enacted in Finland. It is argued here that this reform was based on neo-liberalistic and New Public Management ideologies. This paper analyses the ideological shift that happened during the period between 2005 and 2010 by undertaking a qualitative analysis of the speeches given by different Finnish Ministers of Education devoted to higher education policy, especially on the role of the universities. Nine speeches by six different Ministers were analyzed. There was a clear change in the political rhetoric towards an almost unanimous neo-liberalistic rhetoric, irrespective of the political affiliations of the Minister.
References
Bacchi, Carol (2000). Policy as Discourse: what does it mean? Where does it get us? Discourse: studies in the cultural politics of education. Vol. 21, no: 1/2000, 45–57.
Bienkowski, Wojciech, Josef C. Brada & Gordon Staley (ed.) The University in the Age of Globalization. Rankings, Resources and Reforms. New York: Palgrave Macmillan.
Björn, Ismo, Jarmo Saarti ja Pirjo Pöllänen (2017a). "Päätettiin turvata yliopistojen rahoituksen pitkäjänteisyys". Opetusministereiden poliittinen puhe ja yliopistolaitoksen uudistamisen retoriikka 2005-2015. Yhteiskuntapolitiikka 1/2017, 76-85.
Björn, Ismo, Jarmo Saarti ja Pirjo (Pöllänen (2017b). Yliopistot talousvetureiksi. Suomalaiset yliopistot ja yliopistojen tuottaman sivistys tehostamistalouden kohteena. In Teppo Eskelinen, Hannele Harjunen, Helena Hirvonen & Eeva Jokinen (ed.) Tehostamistalous. Jyväskylä: SoPhi 134, 140-162.
Bok, Derek (2005/2003). Universities in the Marketplace. The Commercialization of Higher Education. Prinveton and Oxford: Princeton University Press.
Buschman, John (2015). Kirjastonhoitajuus kriisissä: tie uusliberalismiin. Suom. Jarmo Saarti. In Jukka Relander & Jarmo Saarti (ed.) Kirjaston kuolema. Helsinki: Avain, 100-117.
Cave, Martin, Stephen Hanney, Maurice Kogan & Gillian Trevett (1988). The Use of Performance Indicators in Higher Education. A Critical Analysis for Developing Practice. Higher Education Policy Series 2. London: Jessica Kingsley Publisher.
Eskelinen, Teppo, Hannele Harjunen, Helena Hirvonen & Eeva Jokinen (ed.) Tehostamistalous. Jyväskylä: SoPhi 134.
Fairclough, Norman (1991). Language and Power. London: Longman.
Fairclough, Norman (1992). Discourse and Social Change. Cambridge: Polity Press, Worcester.
Fairclough, Norman (2002). Language and New Capitalism. Discourse and Society 13(2); 163-166.
Fairclough, Norman (2003). Analysing Discourse. Textual analysis for social research. London: Routledge.
Fairclough, Norman & Ruth Wodak (1997.) Critical discourse analysis. In T. A. van Dijk (ed.) Discourse as Social Interaction: Discourse Studies: A Multidisciplinary Introduction, vol 2. Thousand Oaks, CA: Sage, 258-284.
Furedi, Frank (2017). What's happened to the University?: a sociological exploration of its infantilisation. London: Routledge.
Habermas, Jürgen (1973). Technik und Wissenschaft als "Ideologie". Frankfurt am Main: Surhkamp.
Harvey, David (2005). A Brief History of Neoliberalism. Oxford: Oxford University Press.
Hood, Christopher (1991): A Public management for all seasons? Public Administrations 69 (1991) (spring), 3-19.
Jalava, Marja (2012). The University in the Making of the Welfare State. The 1970´s Degree Reform in Finland. Frankfurt am Main: Peter Lang – Internationaler Verlag der Wissenschafen.
Kallio, Kirsi-Mari (2014)."Ketä kiinnostaa tuottaa tutkintoja ja julkaisuja liukuhihnaperiaatteella…?" Suoritusmittausten vaikutukset tulosohjattujen yliopistojen tutkimus- ja opetushenkilökunnan työhön. Turun yliopisto: Turun kauppakorkeakoulun julkaisuja A 1.
Kallo, Johanna (2009). OECD education policy. A Comparative and historical study focusing on the thematic of tertiary education. Kasvatusalan tutkimuksia 45. Jyväskylä: Finnish Educational Research Association.
Kalunki, Jarmo, Soile Koriseva & Henni Saarela (2015). Suomalaista yliopistopolitiikkaa ohjaavat perustelut tuloksellisuuden aikakaudella. Kasvatus ja Aika 2015:3. http://www.kasvatus-ja-aika.fi/site/?lan=1&page_id=718 (accessed 28.4.2016)
Kankaanpää, Jenni (2013). Kohti yritysmäistä hyöty-yliopistoa. Valtiovallan tahto Suomessa vuosina 1985-2006 ja kokemukset kolmessa yliopistossa. Turku: Turun yliopiston julkaisuja. Sarja C. osa 369.
Kauko, Jaakko (2011). Korkeakoulu dynamiikat Suomessa. Helsingin yliopisto: Käyttäytymistieteiden laitos, Kasvatustieteellisiä tutkimuksia 239.
Kivinen, Osmo, Risto Rinne & Kimmo Ketonen (1993). Yliopiston huomen. Korkeapolitiikan historiallinen suunta Suomessa. Helsinki: Hanki ja jää.
Kohvakka, Mikko (2015). Korkeakoulun osastot ja ainelaitokset kilpailuvaltiollistumisen rakentajina ja vastustajina 1980-luvulla ja 1990-luvun alussa: Tapaustutkimuksina Joensuu ja Lappeenranta. Kasvatus ja Aika. 2015:3.
http://www.kasvatus-ja-aika.fi/site/?lan=1&page_id=715 ( see 28.4.2016)
Koski, Leena (1993). Tieteen tahtomana, yliopiston tekemänä. Yliopiston sisäiset symboliset järjestykset. Joensuun yliopisto: Joensuun yliopiston yhteiskuntatieteellisiä julkaisuja n:o 17.
Kuusisto, Alina (2017). Korkeakoulun punainen aave. Keskustelu Joensuun korkeakoulun politisoitumisesta 1970-luvun sanomalehtikirjoittelussa ja muistelupuheessa". Joensuu: UEF. (Forthcoming)
Lindström, Kai & Timo Kolu (2017). Suomi menettää tutkijoita vahvoihin tiedemaihin. Acatiimi 19(3):30 – 32.
Marginson, Simon (1997). Markets in education, Sydney: Allen & Unwin.
Moisio, Johanna (2014). Understanding the significance of EU higher education policy cooparation in Finnish higher education policy, Acta Universitatis Tamperensis 2004. Tampere: Tampere University Press.
Nevala, Arto (1999). Korkeakoulutuksen kasvu, lohkoutuminen ja eriarvoisuus Suomessa. Bibliotheca Historica 43. Helsinki: Suomen Historiallinen Seura.
Nokkala, Terhi (2007). Construction the Ideal University. The Internationalisation of higher education in the competitive knowledge society. Tampere: Tampere University Press.
Olsen Mark & Michael Peters (2005). Neoliberalism, higher education and the knowledge economy: from the free market to knowledge capitalism. Journal of Education Policy, 20:3, 313-345.
Rinne, Risto (2010). The Nordic University Model from a Comparative and Historical Perspective. S. 82-112. In Jaakko Kauko, Risto Rinne & Heli Kykäänniemi (ed.) Restructuring the Truth of Schooling – Essays on Discursive Practices in Sociology and the Politics of Education. A Festschrift for Hannu Simola. Kasvatusalan tutkimuksia 48. Jyväskylä: Suomen Kasvatustieteellinen Seura.
Rinne, Risto, Arto Jauhiainen & Raakel Plamper (2015). Suomalainen yliopiston itseymmärrys, itsepuolustus ja haasteet 1920-luvulta 2010-luvulle rehtoreiden puheissa. Kasvatus ja Aika. 2015:3 http://www.kasvatus-ja-aika.fi/site/?lan=1&page_id=722 (accessed 28.4.2016)
Saarinen, Taina (2007). Quality on the move: discursive construction of higher education policy from the perspective of quality. University of Jyväskylä: Jyväskylä studies in humanities 83.
Vanttaja, Markku (2010). Yliopiston villit vuodet. Suomalaisen yliopistolaitoksen muutoksia ja uudistuksia 1990-luvulta 200-luvun alkuun. Turku: Turun yliopiston kasvatustieteellisen tiedekunnan julkaisuja A. 210.
Washburn, Jennifer (2005). University, Inc: the corporate corruption of American higher education. New York, Basic books.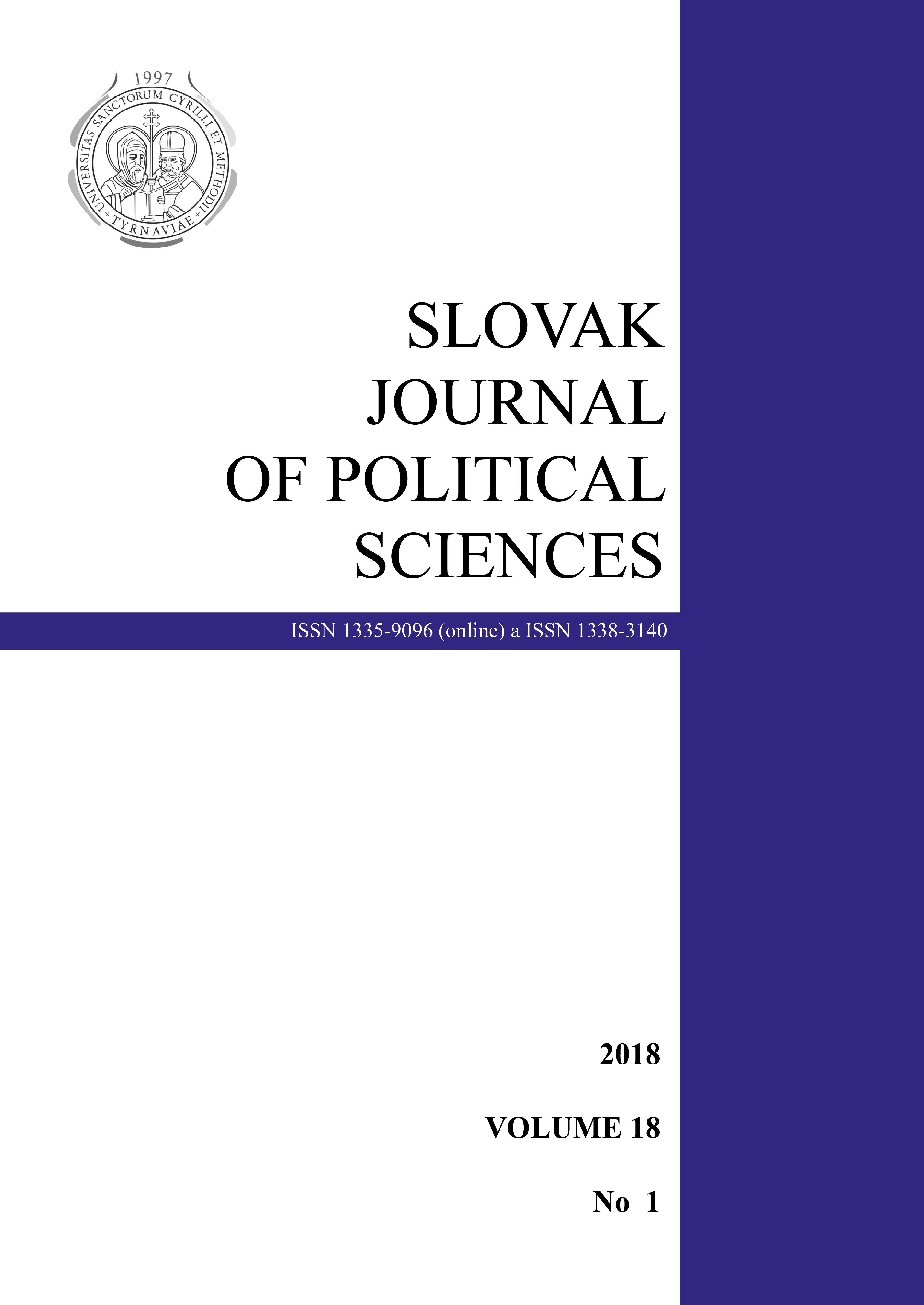 How to Cite
Björn, I., Pöllänen, P. and Saarti, J. (2018) "'We Have Decided to Guarantee the Continuity of the Universities Long-Time Funding': The Political Rhetoric of the Ministers of Education and the Reform of University Funding During 2005—2015 In Finland", Slovak Journal of Political Sciences, 18(1). Available at: https://sjps.fsvucm.sk/index.php/sjps/article/view/67 (Accessed: 23September2023).
Please, read licence agreement.
Publication Charge
There is no publication fee or charge for any submitted or accepted articles. There is no article processing charges (APCs) would be billed to authors.