Czechoslovak intellectual environment after the second world war
Tomáš Nikodym

University of Economics in Prague, Czech Republic

Petra Holeňová

University of Economics in Prague, Czech Republic

Tereza Pušová

University of Economics in Prague, Czech Republic
Keywords:
Democracy, Socialism, Economic Democracy, Czechoslovakia, Post-war Order
Abstract
The paper focuses on the consequences of the Munich agreement in Czechoslovakia. We offer a new perspective how to understand the consequences of the Munich crisis and the subsequent war since we do not focus on the changes of the "real" economic and political system, but on the changes in economic-political thought. Using theoretical approach, we are able to analyse long-term consequences of the Munich agreement, not only the direct impact. The most significant changes in post-war thought were the new international orientation of Czechoslovakia (Soviet Union) and the shift from bourgeois democracy to the so called economic democracy which was understood as a combination of Western democracy with socialist economic planning. Our theoretical analysis of the proposed economic-political system shows that the failure of the post-war system was caused by the inherent features of the socialist-democratic system.
References
Unpublished sources:
The National Archives of UK (TNA UK), FO 371/34343. Speech made by Dr. Beneš at Manchester University on 5th December.
Published sources and historical studies:
BASCH, A., 1945.A Price for Peace: The New Europe and World Markets. New York: Columbia University Press.
BECHYNĚ, R.,1948. Pero mi zůstalo. Praha: Dělnické nakladatelství.
BENEŠ, E., 1946a.Demokraciednes a zítra. Praha: Čin.
BENEŠ, E., 1947.Paměti: Od Mnichova k nové válce a k novému vítězství. Praha: Orbis.
BENEŠ, E., 1920. Povaha politického stranictví. Praha: Vydáno péči ministerstva školství a národní osvěty ve Stát. škol. knihoskladě.
BENEŠ, E., 1946b. ProjevpanapresidentarepublikyDr.EdvardaBenešenasjezdučeskýchspisovatelů v červnu 1946 v Praze. Praha: Syndikát českých spisovatelů.
BENEŠ, E., 1946c. Šest let exilu a druhésvětovéválky: řeči, projevy a dokumenty z r. 1938-45. Praha: Orbis.
BENEŠ, V., 1938. O humanitní demokracii: sebrané stati. Praha: Svaz národního osvobození.
DRTINA, P., 1991. Československo můj osud: kniha života českého demokrata 20. století. Svazek první. Kniha 2, Emigrací k vítězství. Praha: Melantrich.
FEIERABEND, L. K., 1996. Politické vzpomínky III. Brno: Atlantis.
HEJDA, J., 1930. Hospodářská funkce akciové společnosti. Praha: Česká národohospodářská společnost.
HEJDA, J., 1991. Žil jsem zbytečně: Román mého života. Praha: Melantrich.
HERRON, G. D., 1904. The Day of Judgement. Chicago: Charles H. Kerr.
HOBHOUSE, L. T., 1914. Liberalism. Praha: Jan Laichter.
HORNA, M., 1946. Problémy měny v solidarismu. Praha: Orbis.
HROMÁDKA, J. L., 1946. O nové Československo: [Soubor tří přednášek proslovených v Husově domě v Praze…]. Praha: Vydavatelské oddělení YMCA.
MASARYK, J., 2000. Volá Londýn. Praha: Levné knihy KMa.
MUNK, F., 1929. Nové hospodářství: studie o hospodářské revoluci XX. století. Praha: Orbis.
Zápisy ze schůzí československé vlády v Londýně. III. 1 (leden – červen 1943). Edited NĚMEČEK, J., 2012.Praha: Historický ústav Akademie věd ČR.
Zápisy ze schůzí československé vlády v Londýně. III. 2 (červenec – prosinec 1943). Edited NĚMEČEK, J., 2013.Praha: Historický ústav Akademie věd ČR.
OSUSKÝ, Š., 1951.The Way of the Free. New York: E. P. Dutton.
PEROUTKA, F., 1993. Byl Edvard Beneš vinen?. Jinočany: H & H.
PEROUTKA, F., 1947.Tak nebo tak. Praha: Fr. Borový.
RIPKA, H., 1945. Československo v nové Evropě. Londýn: Lincolns-Prager Publishers.
RIPKA, H., 1945. S východem a západem. Londýn: Nákladem Čechoslováka.
STRÁNSKÝ, J., 1946. Hovory k domovu. Praha: Fr. Borový.
ŠRÁMEK, J., 1943. Jednota vskutku národní. In:Čechoslovák, no. 43–44, October 28, pp. 1–2.
ŠRÁMEK, J., 1945. Politické projevy v zahraničí. Praha: Výkonný výbor československé strany lidové.
TÁBORSKÝ, E., 1946.Naše věc: Československo ve světle mezinárodního práva za druhés větové války. Praha: Melantrich.
UHÍŘ, F., 1944. Prague and Berlin 1918–1938. London: Hutchinson.
Literature:
ABRAMS, B., 2005, The Struggle for the Soul of the Nation: Czech Culture and the Rise of Communism, Lanham: Rowman and Littlefield.
BARLET, B., 1992. Keynesian Policy and Development Economics. In: Dissent on Keynes: A Critical Appraisal of Keynesian Economics. Editor SKOUSEN, M., New York: Praeger Publisher, pp. 103–116.
BOETTKE, P.,2001. Calculation and Coordination. New York and London: Routledge.
BORDO, M. and SCHWARTZ, A., 1984. A Retrospective on the Classical Gold Standard 1821-1931. Chicago: University of Chicago Press.
BRENNER, Ch., 2015. Mezi Východem a Západem: české politické diskurzy 1945–1948. Praha: Argo.
HAYEK, F.A., 1976.The Road to Serfdom. Chicago: The University of Chicago Press.
HUERTA de SOTO, J., 1995.Entrepreneurship and the Economic Analysis of Socialism. In: New Perspectives on Austrian Economics. Edited GERRIT M., London: Routledge, pp. 228–252.
LEONI, B., 1972. Freedom and the Law. Los Angeles: Nash Publishing.
JINDROVÁ, A., 2011. Antonín Basch. In: Havlíčkobrodsko 25: Sborník o historii regionu. Havlíčkův Brod: Muzeum Vysočiny, pp. 145–161.
KUKLÍK, J., 1998. Londýnský exil a obnova československého státu 1938–1945. Praha: Karolinum.
KUKÍK, J. and NĚMEČEK, J., 2004. Proti Benešovi! Česká a slovenská protibenešovská opozice v Londýně 1939–1945. Praha: Karolinum.
MISES, L. von, 1998. Human Action: A Treatise on Economics. Auburn: Ludwig von Mises Institute.
MYANT, M., 2008. Socialism and Democracy in Czechoslovakia 1945–1948. Cambridge: Cambridge University Press.
NIKODYM, T., 2014a. The Economic Causes of War and Changes in Post-war Economic Thought: From Keynes to Beneš. Central European Papers, vol. 2, no. 2, pp. 79–94.
NIKODYM, T., 2014b. Z knihovničky utopického socialismu. Praha: Ludwig von Mises Institut.
PEHR, M., 2011a. Zápas o nové Československo 1939–1946: válečné představy a poválečná realita. Praha: NLN.
PEHR, M., 2011b. Jan Šrámek a třetí republika. In:Jan Šrámek a jeho doba. Edited MAREK, J., Brno: Centrum pro studium demokracie a kultury, pp. 437–447
PIPES, R., 1999. Property and Freedom. New York: Alfred Knopf.
ROTHBARD, M., 2009. Man, Economy and State with Power and Market. Auburn: Ludwig von Mises Institute.
SKLAR, M., 1972. Woodrow Wilson and the Political Economy of Modern United States Liberalism. In: A new History of Leviathan: Essays on the Rise of the American Corporate State. Editors RADOSH, R. and ROTHBARD, M., New York: E. P. Dutton & Co., pp. 7–65.
TÁBORSKÝ, E., 1993. Prezident Beneš mezi Západem a Východem. Praha: Mladá fronta.
VENCOVSKÝ, F., 1993. Karel Engliš. Brno: Universitas Masarykiana.
Český liberalismus: texty a osobnosti.1995. Editors ZNOJ, M., HAVRÁNEK, J. and SEKRERA, M., Praha: Torst.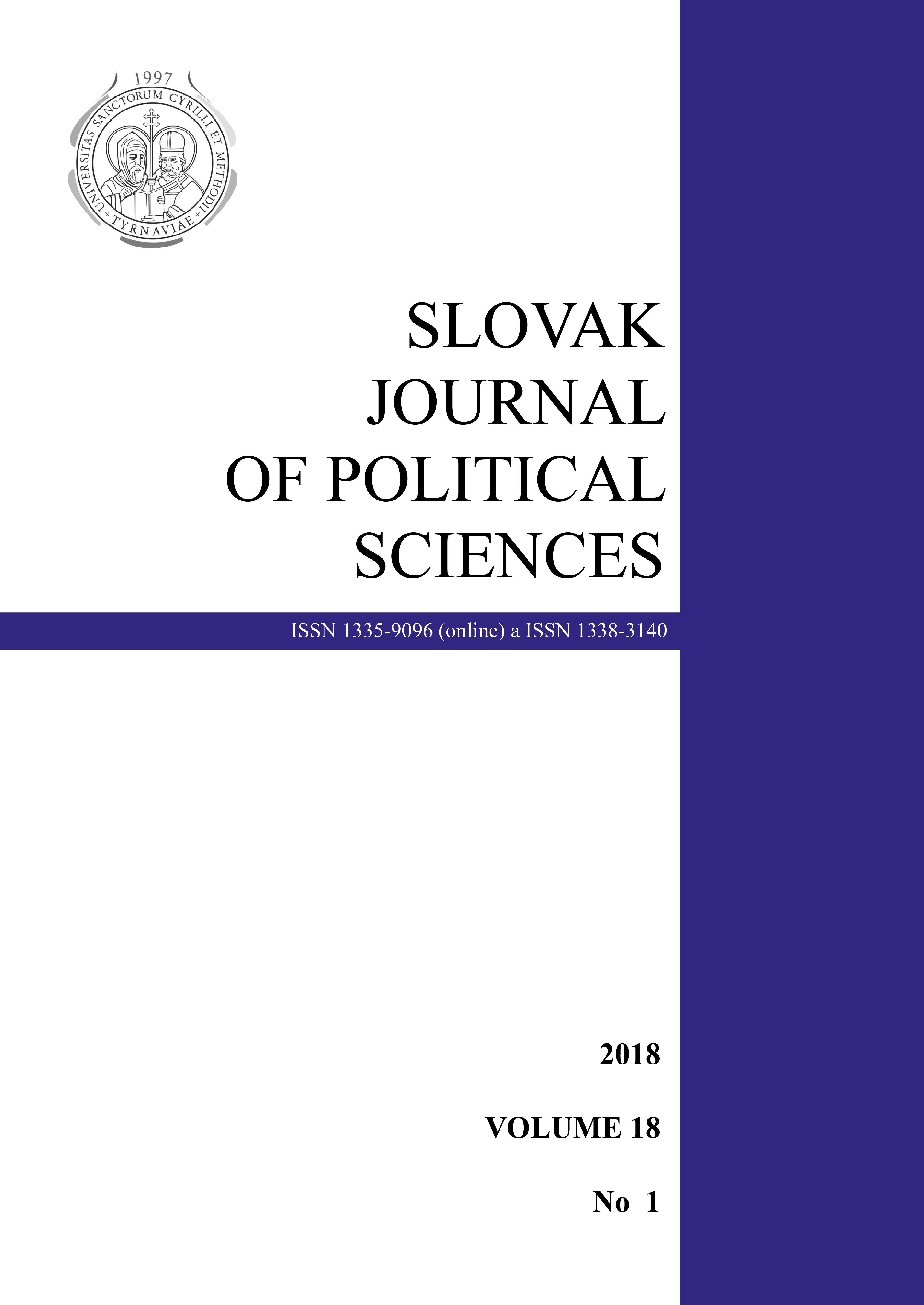 How to Cite
Nikodym, T., Holeňová, P. and Pušová, T. (2018) "Czechoslovak intellectual environment after the second world war", Slovak Journal of Political Sciences, 18(1). Available at: https://sjps.fsvucm.sk/index.php/sjps/article/view/71 (Accessed: 23September2023).
Please, read licence agreement.
Publication Charge
There is no publication fee or charge for any submitted or accepted articles. There is no article processing charges (APCs) would be billed to authors.